Thomas Gabor, LLC, is a full-service, international research company offering crime, justice, and social research services and advice to government agencies, businesses, law enforcement and correctional agencies. Our company also offers legal services, including expert testimony and assistance to attorneys in their trial preparations. In addition, we provide security advice and communications services. Our highly respected, multi-disciplinary team can produce both technical reports and those intended for a wider readership. We provide our clients with solutions that support their operations, help them make policy decisions and meet their financial objectives. As both academics and consultants, we see ourselves as a bridge between the research community and those who make critical policy decisions, handle legal cases, and devise practical security strategies.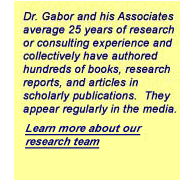 Dr. Thomas (Tom) Gabor and Associates have served some elite clients, including the United Nations, Department of Justice Canada, the UK's Prime Minister's Office, Public Safety Canada, Royal Canadian Mounted Police, Canadian Correctional Service, and major corporations like American Express, Sony, and Siemens.
Our team has published in leading scholarly journals, such as the American Sociological Review, British Journal of Criminology, Crime & Delinquency, International Review of Victimology, Criminal Law Quarterly, and the Canadian Journal of Criminology. Team members have won awards from prestigious organizations, such as the American Society of Criminology, Fulbright Foundation, and the United States Institute of Peace.
We commit ourselves to producing impartial and objective research of the highest quality. Our clients are our top priority and we work collaboratively with them. Our statement of mission and values spells out our commitment to these principles and to the highest ethical standards in general.
We have served a large and diverse group of clients and have been recipients of a number of research awards, as well as testimonials from clients. View a list of Dr. Gabor's clients and selected client testimonials.
.